The material in this post came from my efforts to learn about when Arlington's housing was built. The data comes from the town's 2019 property tax assessments, where I took our nineteen-thousand-and-some-odd homes and apartments and broke them down by housing type and decade built. It's not exactly a history housing of production, though it is a close approximation. In this analysis, a single-family home built in the 1912 and rebuilt as a two-family in 1976 would show up as two units built in the 1970s. Similarly, a three-family home that was built in the 1924 and later converted to condominiums would show up as three condominiums built in the 1920s.
Here's the visual summary: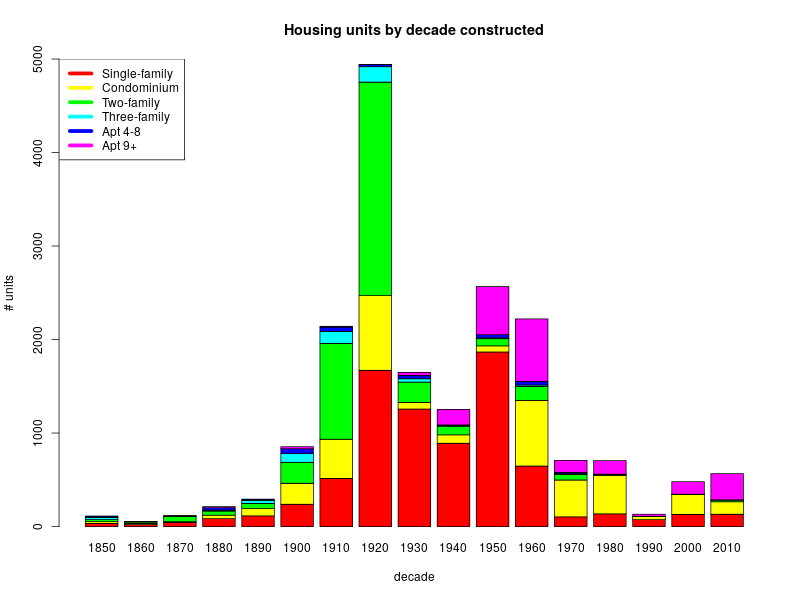 And here's a small spreadsheet with the underlying numbers.
My first surprise was at how much we built in the 1920s: just under five thousand units. This was our biggest decade for housing production, and nearly double our second biggest (the 1950s). Another surprise was the 1990s; 132 of our homes were constructed during that decade, which is the smallest number since the 1870s.
What about homes constructed before 1850? There are only 117 of them, and they're omitted from the data set. I've also omitted residential units in mixed-use buildings, since my copy of the assessors data doesn't break mixed-use buildings into residential and non-residential units.