(This post originally appeared as a one-page handout, distributed at The State of Zoning for Multi-Family Housing in Greater Boston.)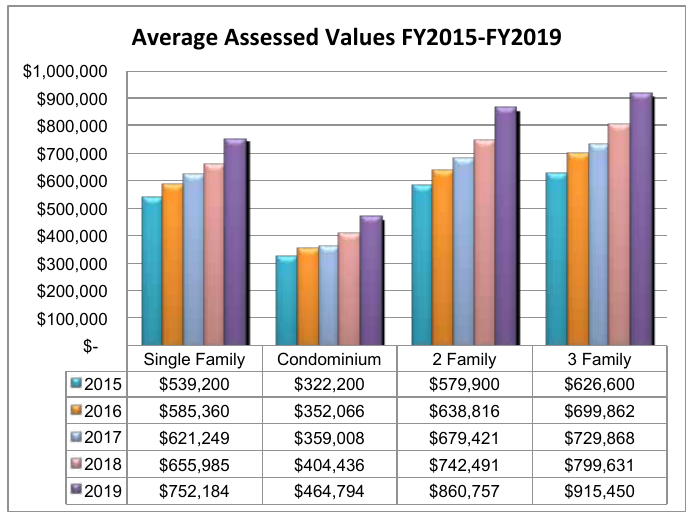 This chart shows the assessed value of Arlington's low density housing from 2015–2019 (assessed values generally reflect market values from two years prior). During this time, home values increased between 39% (single-family homes) and 48% (two-family homes). Most of the change comes from the increasing cost of land. As a point of comparison, the US experienced 7.7% inflation during the same period. (1)
Arlington has constructed six apartment buildings in the 44 years since the town's zoning bylaw was rewritten in 1975; we constructed 75 of them in the preceding 44 years.(2) Like numerous communities in the Metro-Boston area, we're experiencing a high demand for housing, but our zoning regulations have created a paper wall that prevents more housing — including affordable housing — from being built.
Communities need adequate housing, but they also need housing diversity: different types of housing at different price points. The housing needs of young adults are different than the housing needs of parents with children, which are in turn different than the housing needs of senior citizens. As demographics change, housing needs change too. Keeping people in town means providing them with the opportunity to upsize or downsize when the need arises.
If Arlington's housing costs had only increased with the rate of inflation, the cost of single family housing would average $581K, over $170K less than today. The median household income in Arlington is about $103K/year.(3) Buying an average single family-home with that income on a typical 30-year mortgage would require approximately 46% of a household's monthly income.(4)
Either homes in Arlington will only be available to people who have much more substantial incomes than current residents, or the town will find a way to balance the rapidly growing cost of land against the housing needs of its current citizens, those still in school, those preparing to downsize as well as those looking for a bigger space.
In addition, Arlington's commercial economy will thrive with a greater number of housing units so we can keep the empty nesters, and the new college graduates who have lived in the town for years, as well as welcome new Arlingtonians to support our local businesses, restaurants and other services.
Our Town, like others in the state, is looking for ways to balance the needs of our citizens with the market forces of rising land costs while maintaining a healthy, diverse community.
Footnotes
The inflation amount comes from Inflation amount from https://data.bls.gov/cgi-bin/cpicalc.pl.
Figures on multi-family unit construction are taken from Arlington Assessor's data. They reflect multi-family buildings that are still used as rental apartments.
Income levels come from 2013-2017 ACS 5-year data for Arlington, MA.
Assuming 10% downpayment, 4% interest, $800/year for insurance, and Arlington's $11.26 tax rate, the monthly mortgage payment would be nearly $4000/month.